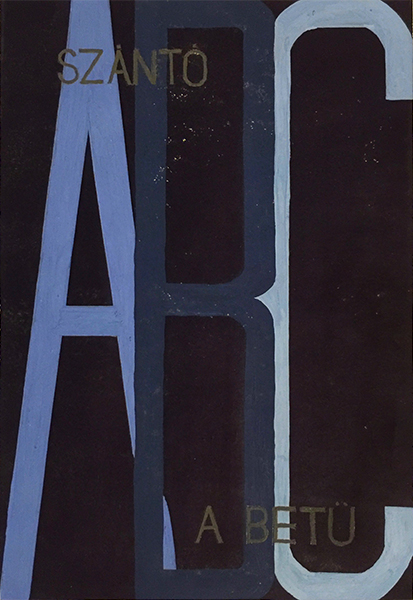 ABC
Hungarian title:
ABC
Size:
A5 1/16 Sheet (cca. 15 x 21 cm)
Material:
Paint on cardboard.
Price: $250
Description:
This painted artwork was created for the book of Tibor Szántó, called a 'A betű' (The Letter). Szántó was an awarded Hungarian book illustrator and cover designer, at the same time, a scientist of book history, the history of writing, letters, and typography, too. The Letter was published in 1966, when this artwork was also created, by Iván Váradi.
There is hardly any information about Iván Váradi, but observing his available works, we can say that during the 1960s his works were likely to have a modern, artistic, expressionist style, applying tendencies from minimalist, through cartoon-like, up to abstract ones. This modality is in harmony with the poster art of the decade as a bigger artistic freedom came true for designers.
The artwork here bears the characteristics of the so-called International Typographic Style, or Swiss-style. It was a current tendency in Hungarian and international poster art, deriving from Switzerland in the 1950s. As it is visible here, the style connected the traditions of constructivist design and contemporary minimalism, applying letters or numbers as artistic symbols. The most prominent representative of this style in Hungary was Gábor Papp, who influenced many others, for instance, Iván Váradi.