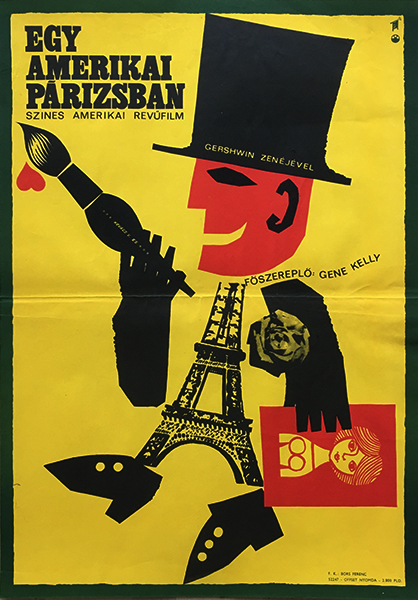 American in Paris, An
Hungarian title:
Egy amerikai Párizsban
Artist:
Size:
Kovács, Vilmos
A2 1/2 Sheet (cca. 42 x 59 cm)
Year:
Condition:
1965
Fine.
Material:
Paper, offset.
Price: $400
Description:
Poster for the first release of the movie in Hungary.
An American in Paris is a 1951 American musical film inspired by the 1928 orchestral composition An American in Paris by George Gershwin. Starring Gene Kelly, Leslie Caron, Oscar Levant, Georges Guétary, and Nina Foch, the film is set in Paris, and was directed by Vincente Minnelli from a script by Alan Jay Lerner. The music is by George Gershwin, with lyrics by his brother Ira, with additional music by Saul Chaplin, the music director. (source: wikipedia.org)
The film is about three friends who struggle to find work in Paris. Things become more complicated when two of them fall in love with the same woman.
Vilmos Kovács mixed the technique of paper cut-out with photography to create this cheerful poster.