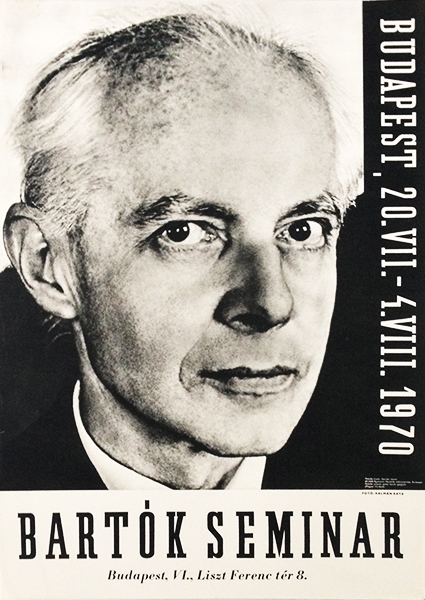 Bartók Seminar
Hungarian title:
Bartók Seminar
Artist:
Size:
Unknown artist
B2 (cca. 50 x 70 cm)
Year:
Condition:
1970
Fine.
Material:
Paper, offset.
Price: $120
Description:
Black and white, photo-based composition for one of the most prestigious and still existing musical event, the Bartók Seminar.
The International Bartók Seminar was first held in 1967. By 1985 it expanded with a festival and took the "Bartók – New Music" motto and has become one of Hungary's most acclaimed musical events. The seminar's teachers and the festival's performers are Hungarian and foreign artists, art teachers and ensembles. During the past couple of decades the event was marked by such musicians' names like Zoltán Kocsis, Péter Eötvös, György Kurtág, Heinz Holliger, Zoltán Peskó, Miklós Perényi, György Pauk, György Ligeti or John Cage. A specialty of the event is, that besides the concerts and master courses like piano, violin, chamber music, singing, composition and conducting, it is made up of other programs like musicology lectures, folk music programs and other yearly changing related programs (movie screenings, exhibitions, round-table discussions, etc.) The young musicians and students of musical institutes are not only able to learn about Bartók's music, but they can meet the 20th century's and contemporary music's repertoire and learn about their special instrument-handling techniques, which is missing from today's musical education. This repertoire is what characterizes the concerts of the festival, too.
The International Bartók Seminar and Festival's master courses' and programs of the concerts primarily place Bartók's art and the contemporary music's repertoire in focus. These are then combined with other authentic Hungarian, Slav, Bulgarian, Romanian and Slovak folk music, which made a great impression on Bartók. (source: info.bmc.hu)