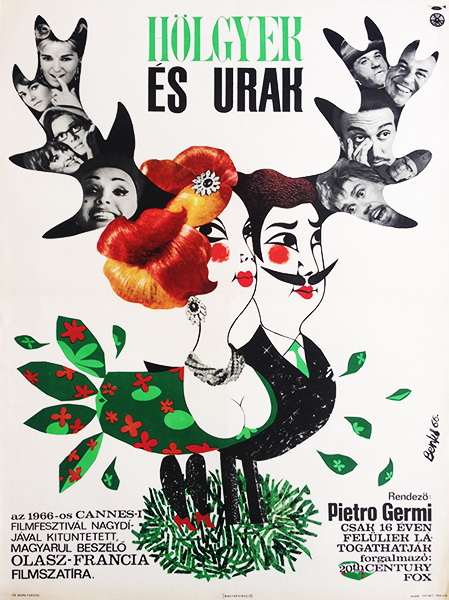 Birds, the Bees and the Italians, The
Hungarian title:
Hölgyek és urak
Artist:
Size:
Benkő, Sándor
A1 1 Sheet (cca. 55 x 84 cm)
Year:
Condition:
1966
Fine, fold mark, light foxing along the border.
Material:
Paper, offset.
Price: $80
Description:
First release poster of the movie in Hungary.
The Birds, the Bees and the Italians is a 1966 Italian film directed by Pietro Germi. Its original Italian title is Signore & Signori. The film shared the Grand Prix with A Man and a Woman at the 1966 Cannes Film Festival. A citizen of the Veneto in her sixties. Three stories of "love in the country": a pseudo Don Giovanni confesses his impotence to the doctor in confidence but he becomes betrayed by him - the medic speaks about his patient with some befriend gossips; a bank employee, after a tormented affair with the young waitress of a bar, returns to be single - disappointed and made bitter; some boys exploit the gratitude of an ingenuous girl from the vicinity. Her father denunciates them but withdraws all efforts after getting a compensation and saves them from jail.