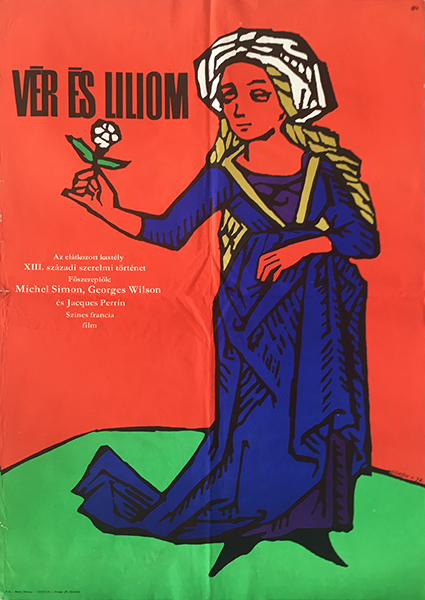 Blanche
Hungarian title:
Vér és liliom
Artist:
Size:
Görög, Lajos
A1 1 Sheet (cca. 55 x 84 cm)
Year:
Condition:
1972
Fine, fold marks, creases.
Material:
Paper, offset.
Price: $150
Description:
Blanche is the young, pure, beautiful wife of the Master of the castle, in a secluded land. Every man is in love with her, including the King and his servant Bartolomeo, visiting the Master. (source: imdb.com) Blanche is a tale of illicit love thwarted by jealous husbands. It is starring his own wife, Ligia Branice.
The film was directed by Walerian Borowczyk (21 October 1923 – 3 February 2006) who was an internationally known Polish film director described by film critics as a 'genius who also happened to be a pornographer'. He directed 40 films between 1946 and 1988. Borowczyk settled in Paris in 1959. His career as a film director was mainly in France. (source: wikipedia.org)