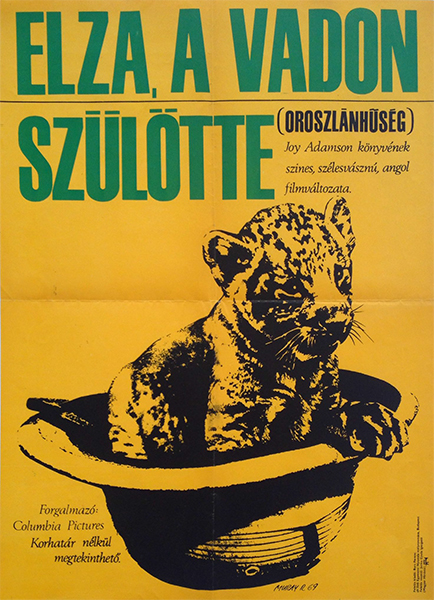 Born Free
Hungarian title:
Elza, a vadon szülötte
Artist:
Size:
Muray, Róbert
A2 1/2 Sheet (cca. 42 x 59 cm)
Year:
Condition:
1969
Fine, fold marks.
Material:
Paper, offset.
Price: $50
Description:
Born Free is a 1966 Technicolor British drama film starring Virginia McKenna and Bill Travers as Joy and George Adamson, a real-life couple who raised Elsa the Lioness, an orphaned lion cub, to adulthood, and released her into the wilderness of Kenya.
The poster shows Elza the lion cub in a hat. Itv was designed by Róber Muray who mostly made posters related to nature or wildlife. This is a movie poster but the poster of a film which themes fit to the designer's usual themes.