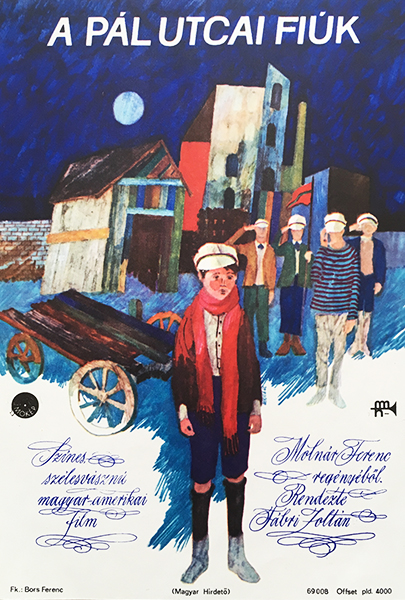 Boys of Paul Street, The
Hungarian title:
A pál utcai fiúk
Artist:
Size:
Máté, András
Tram poster (cca. 17 x 24 cm)
Year:
Condition:
1968
Fine.
Material:
Paper, offset.
Price: $50
Description:
An American-Hungarian co-production directed by Zoltán Fábri, based on the youth novel The Paul Street Boys by the Hungarian writer Ferenc Molnár. - Signed 'Máté András'.
The poster is a beautiful painted composition by one of the most influential poster artist of the 1960's in Hungary, András Máté. Máté was known from his pictoresque movie posters and his splendid tourism posters. This piece shows a decorative painted composition. The colors are well chosen, the brushwork is intensive, and the whole composition is absolutely harmonic. The poster reflects the athmosphere of the movie and the book.
The Paul Street Boys (Hungarian: A Pál utcai fiúk) is a youth novel by the Hungarian writer Ferenc Molnár, first published in 1906. The novel is about schoolboys in Józsefváros neighbourhood of Budapest and set in 1889. The Paul Street Boys spend their free time at the grund, an empty lot that they regard as their "Fatherland". The story has two main protagonists, János Boka (the honourable leader of the Paul Street Boys) and Ernő Nemecsek (the smallest member of the group). When the "Redshirts"—another gang of boys, let by Feri Áts, who gather at the nearby botanical gardens—attempt to take over the grund, the Paul Street Boys are forced to defend themselves in military fashion. Although the Paul Street Boys win the war, and little Nemecsek repeatedly demonstrates that his bravery and loyalty surpasses his size, the book ends in tragedy. (source: wikipedia.org)