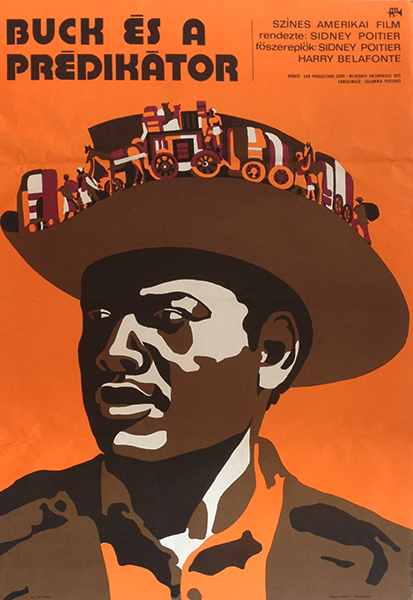 Buck and the Preacher
Hungarian title:
Buck és a prédikátor
Artist:
Size:
Balogh, Katalin
A1 1 Sheet (cca. 55 x 84 cm)
Year:
Condition:
1973
Fine, fold marks, creases.
Material:
Paper, offset.
Price: $250
Description:
First release poster for the film in Hungary. Balogh's decorative design shows the influence of Pop Art.
Buck and the Preacher is a 1972 American Western film starring Sidney Poitier as Buck and Harry Belafonte as the Preacher. This is the first film Sidney Poitier directed.
Buck is a trail guide leading groups of former slaves trying to homestead in the West, immediately after the American Civil War. The Preacher is a swindling minister of the "High and Low Order of the Holiness Persuasion Church". Together, they protect a wagon train from bounty hunters. (source: wikipedia.org)