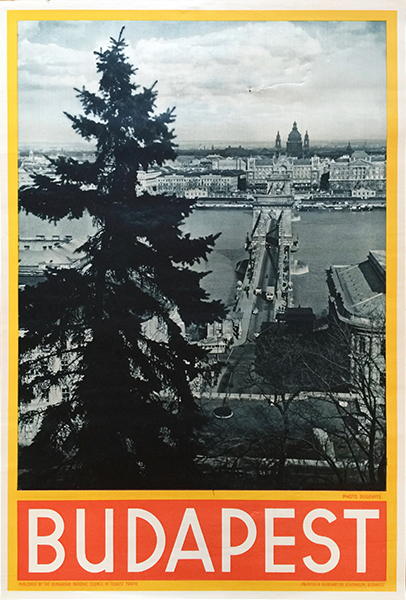 Budapest
Hungarian title:
Budapest
Artist:
Size:
photo Dulovits
B2 (cca. 50 x 70 cm)
Year:
Condition:
1935
Fine, a few microtears along the borders. small tears and creasing in the image.
Material:
Paper, lithography.
Price: $250
Description:
Photographic travel poster from the 1930s. The photograph was created by Jenő Dulovits, a famous Hungarian photographer of the era. The posters shows Budapest from the top of the tunnel beneath the Buda Castle. We see the Danube and the Chain Bridge, the István Széchenyi Square (formerly Roosevelt Square) with it's famous building, including the Gresham Palace which is now the home of the Four Seasons Hotel in Budapest, and also the St. Stephen's Basilica in the backround. The image also shows that at the time, left-hand traffic was in Hungary, which was changed in 1941. Published by the Hungarian National Council of Tourist Traffic.