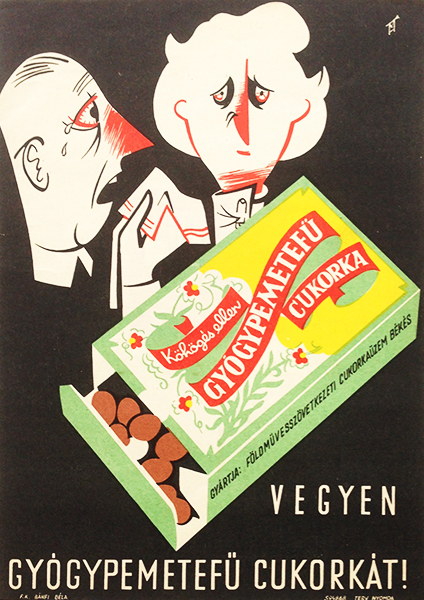 Buy horehound candy!
Hungarian title:
Vegyen gyógypemetefű cukorkát!
Artist:
Size:
Unknown artist
Tram poster (cca. 17 x 24 cm)
Year:
Condition:
1959
Mint.
Material:
Paper, offset.
Price: $50
Description:
Commercial tram poster from the late 1950s, advertising horehound candy.
Horehound (Marrubium vulgare) is used to make hard candies that are considered by folk medicine to aid digestion, cough, soothe sore throat and relieve inflammation. The composition shows the product itself: the easily recognizable, colourful package and the brown candies.
The design is built upon the contrast of the black background and the vivid colours of the candy box. Besides the product a man and a woman also appear who are obviously suffering from cold, cough and slight running nose. The slogan on the bottom part of the poster suggest to the viewer to 'Buy horehound candies' to overcome cold.