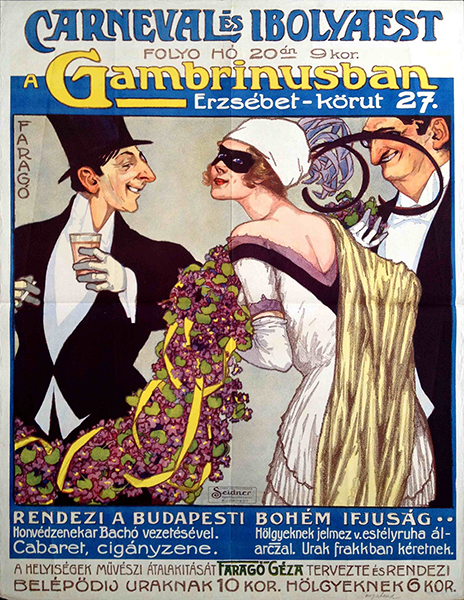 Carnival and Violet Ball at the Gambrinus
Hungarian title:
Carneval és Ibolyaest folyó hó 20-án 9-kor a Gambrinusban Erzsébet-körút 27.
Artist:
Size:
Faragó, Géza
Pre-war 2 Sheet (cca. 95 x 126 cm)
Year:
Condition:
1924
Fine. Fold marks, small tears along the borders, pencil marks.
Material:
Price: $5000
Description:
This breathtaking masterpiece leaves the viewer speechless. It is one of the great designs by the master of Hungarian poster design, Géza Faragó. His professor was Mucha the greatest master of Art Nuevau. His style has clearly influenced Faragó's art as well as the years working in Paris. GTéza Faragó was an internationally acclaimed artist which is well proven by the fact that he had a solo exhibition in Berlin in 1914. Faragó was not only agreat painter but also a popular caricaturist, but he was mostly famous for his beautiful posters.
His designs have a decorative two dimensional style, strong contours, vivid colours and eye-catching ornaments. Like his Czech master, Faragó preferred to represent lovely female figures. Faragó had a special sense of humor and a caricaturesque style that he was able to seamlessly blend with the stunningly attractive Art Nouveau shapes, patterns and other elements: he has created several unforgettable humorous figures, acting almost like trademarks in his designs (such as the bishop for Kerpel, the dandy for Törley, the cheerful girl for Janina). These figures typified the members of the European and Hungarian urban societies of the time. Faragó was an enthusiastic fan of metropolitan life, he has designed many commercial posters for nightclubs, cafés, pubs and theaters – he himself became a well-known personality in Budapest's nightlife. His talent also made him perfectly suited for designing fashion posters. Faragó started a new era in Hungarian poster art: that the story and jokes are the key tools – besides high artistic value – for capturing the attention. .
What makes this poster an exceptional piece of art, is that it combines the unmatched decorativeness and beauty of the best posters of the era, with the irresistible charm and humor of Faragó. This poster shows fantastic ability to capture the essence of the typical characters of the turn-of-the-century nightlife of Budapest. Gambrinus was a place named after a European culture figure who was an icon associated with beer and joyful living. The poster bears the characteristics of Art Nouveau style: the depiction of a moment of an event in the centre and it is placed in a frame. the characters wear the style of the period. The text is placed on the top and the bottom with the main information of the upcoming event. Signed in the top left corner: 'FARAGÓ'.