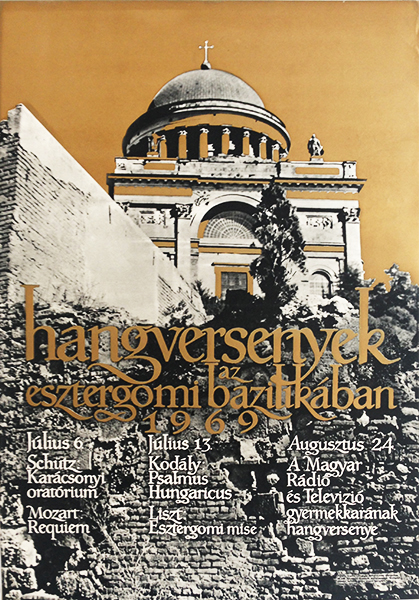 Concerts in the Esztergom Basilica
Hungarian title:
Hangverseny az esztergomi Bazilikában
Artist:
Size:
Unknown artist
B2 (cca. 50 x 70 cm)
Year:
Condition:
1969
Fine.
Material:
Paper, intaglio.
Price: 60
Description:
Poster to promote calssical concert series held in the Esztergom Basilica. Three dates are presented on the poster: July 6, when the Christmas Oratorio by Schütz and Requiem by Mozart. On the 13th of July Psalmus Hungaricus by Kodály and Esztergom Mass by Liszt were performed and on the 24th of August the child choir of the Hungarian Radio and Television had a show.
The poster shows a picture of the Esztergom Basilica and the black and white photography is given a festive atmosphere by the golden details.