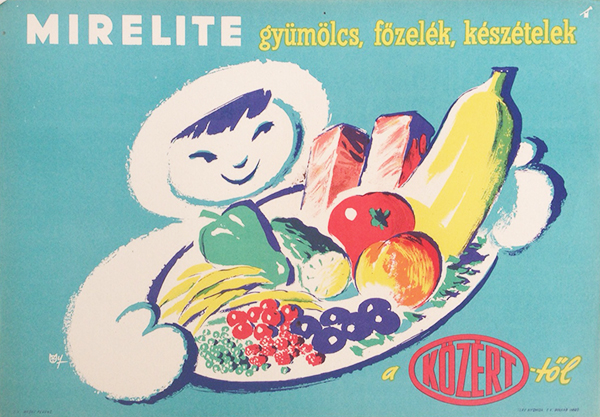 Deep-frozen Fruits, Pottage and Ready-made Food from Közért
Hungarian title:
Mirelite gyümölcsök, főzelék és készételek a Közérttől
Artist:
Size:
Macskássy, János
Non-standard size
Year:
Condition:
1952
Fine.
Material:
Price: $100
Description:
Commercial tram poster from the 1950s in a non-standard size (23.5 x 33.5 cm). The design was created for 'Közért' (abbreviation of 'Községi Élelmiszerkereskedelmi Rt.', meaning 'Municipality Food Commerce Public Company'). It was founded in 1948 and it was responsible for the provision of food in the country. When it was founded, the food chain had 358 shops in Budapest and 31 shops in the countryside. Those in the countryside were soon attached to other commercial organizations, but the number of the shops in Budapest were growing fast.
This poster advertised deep-frozen fruits and ready-made food which were available in the shops of Közért. The concentrated composition and the use of a bit stylized portrayal contributes to a great design. This work was created by János Macskássy, a fine graphic designer and painter active from the 1930s until the 1960s.