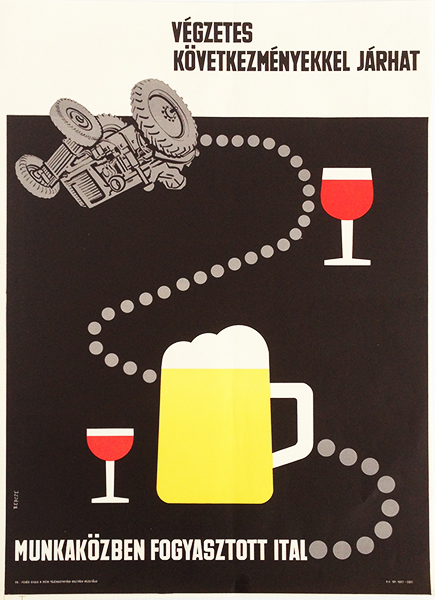 Drinking alcohol at work can lead to fatal consequences
Hungarian title:
Munka közben fogyasztott ital végzetes következményekkel járhat
Artist:
Size:
Repcze, János
B2 (cca. 50 x 70 cm)
Year:
Condition:
1967
Fine, light fold marks.
Material:
Paper, offset.
Price: $240
Description:
Decorative workers' safety poster from the 1960s by János Repcze. The poster warned workers of the fact that drinking alcohol at work can lead to fatal consequences.
Although the design was created to deal with serious health issues and prevention from danger, it has a slighlty humorous character. Alcohol is represented by some simple, icon-like images like bottles of wine and a huge jar of beer. These funny images of glasses can be seen where the signed route the car driver has taken turns. This route is shown by big dots. After several turns the car is depicted in a cartoon-like manner, fallen over. The text starts in the start of the route, and it finishes in the end of it, emphasizing the bad consequences.
The lovely atmosphere of the design was probably aimed to easily target the audience.