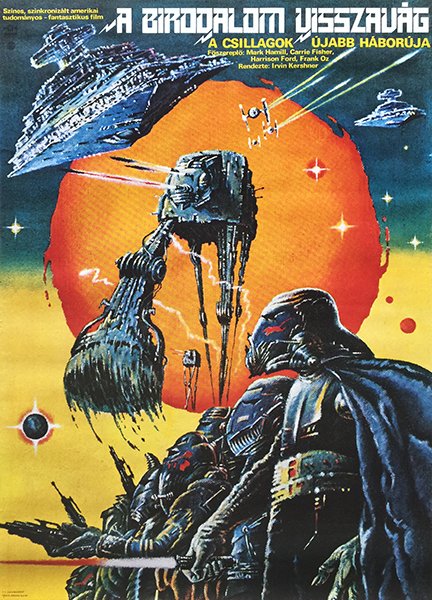 Empire Strikes Back, The
Hungarian title:
Csillagok háborúja: A Birodalom visszavág
Artist:
Size:
Helényi, Tibor
A0 2 Sheet (cca. 84 x 119 cm)
Year:
Condition:
1981
Fine. Unfolded, a few microtears along vertical borders. Near mint.
Material:
Paper, offset.
Price: $4200
Description:
The Empire Strikes Back. Rare 2 sheet poster for the second film of the Star Wars universe. From Helenyi, Tibor's estate. 1981. A0 Two Sheet (cca. 119 x 84 cm). One impressive piece from Tibor Helenyi's famous Hungarian Star Wars poster series. The painted compositions reflect the movie's world, however they do not follow strictly the motives of the movies. (Helenyi saw the films, but while working he could only rely on his memories, so his works always catch the atmosphere of the movies, but he created new, original visions too.) The painted compositions are very expressive and surreal, reflecting the popular visual world of the 1980's - the world of comics, science fictions etc. The poster is an original first release.

The Empire Strikes Back (also known as Star Wars Episode V: The Empire Strikes Back) is a 1980 American epic space opera film directed by Irvin Kershner. Leigh Brackett and Lawrence Kasdan wrote the screenplay, with George Lucas writing the film's story and serving as executive producer. The second release in the Star Wars franchise, it was produced by Gary Kurtz for Lucasfilm Ltd and stars Mark Hamill, Harrison Ford, Carrie Fisher, Billy Dee Williams, Anthony Daniels, David Prowse, Kenny Baker, Peter Mayhew and Frank Oz. The story of the "Empire Strikes Back" goes like this: After the rebels have been brutally overpowered by the Empire on their newly established base, Luke Skywalker takes advanced Jedi training with Master Yoda, while his friends are pursued by Darth Vader as part of his plan to capture Luke. (imdb.com, wikipedia.org)