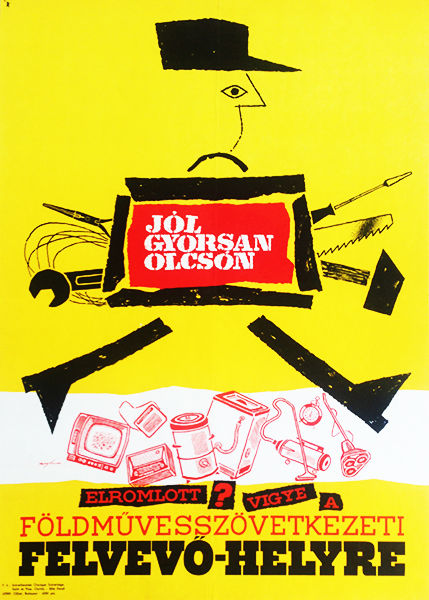 Fast repair for a reasonable price at the agricultural cooperatives
Hungarian title:
Jól, gyorsan, olcsón - Elromlott? Vigye a Földművesszövetkezeti felvevő-helyre
Artist:
Size:
Bottlik, József
B2 (cca. 50 x 70 cm)
Year:
Condition:
1960s
Fine.
Material:
Price: $140
Description:
Bring the broken machines and household appliances to the pick up location of the agricultural cooperatives. An agricultural cooperative, also known as a farmers' co-op, is a cooperative where farmers pool their resources in certain areas of activity. Co-operatives were officially organised in the socialist Hungary. They offered services to their members, such as repairing the broken tools and machines.
The caricature like poster depicts a man rushing, his body is a case full of tools, such as a saw, hammer, scissors, etc. His dynamic moves refer to the rapidness of the service advertised. Below him certain appliances are shown (telvision, washing machine, vacuum cleaner, radio, typwriter, watch) to demonstrate the large variety of appliances the coops could fix. The message of the advertisement is written in three lines and with different typeface in each line. This adds to the playful and eye-catching effect of the poster.