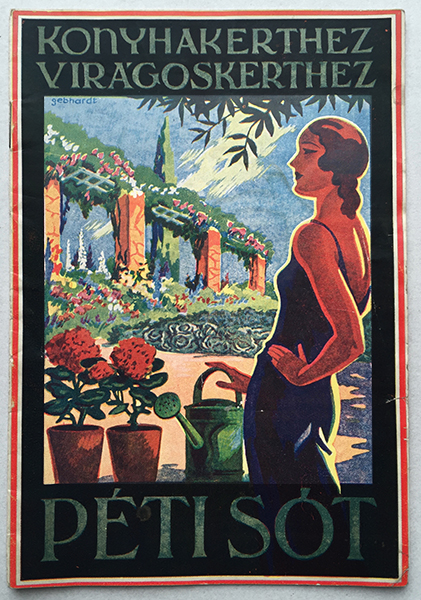 Fertilizer for your vegetable garden
Hungarian title:
Konyhakerthez, virágoskerthez Péti sót
Artist:
Size:
Gönczi Gebhardt, Tibor
Non-standard size
Year:
Condition:
around 1930
Near mint.
Material:
Paper, lithography.
Price: $200
Description:
Brochure for a plant fertilizer, namely Péti Só. Size: 12 x 17.5 cm.
Péti Só was invented in 1931 by Péti Nitrogen Factory and it is a kind of chemical manure containing nitrogen. The brochure consistsof 8 pages with general instructions for taking care of plants and flowers and on how to use Péti Só.
The cover design was made by Tibor Gönczi Gebhardt who was famous for his elegant Art Deco style. This composition also bears the Art Deco characetristis. The delicately drawn woman figure in the foreground, her hairstyle and dress and the position she is in, matches the classic background with the beautiful flowers, and the contrast between the parts in shadow and in sunlight. The composition is framed by the text on a black background but the woman's figure is in front of the text what makes her appear as she was looking on her amazing garden from a distance. What connects her with the composition - beside the harmony of the colours and shapes - is that her hand is resting on the watering can.