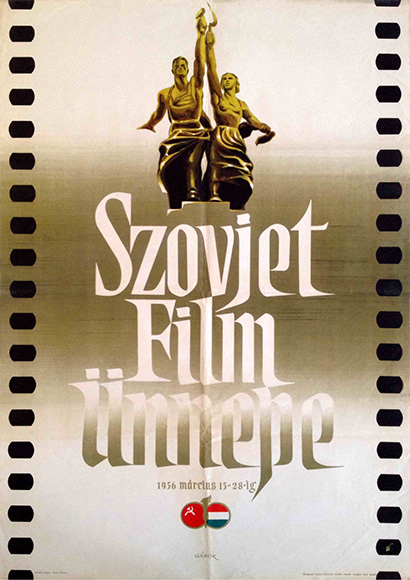 Festival of Soviet Film 1956
Hungarian title:
Szovjet Film Ünnepe 1956
Artist:
Size:
Gábor, Pál
A1 1 Sheet (cca. 55 x 84 cm)
Year:
Condition:
1956
Fine, with fold marks. Fine.
Material:
Price: $500
Description:
Pál Gábor was annually designing the posters of the Soviet Film Festival. He tried to avoid the boring schemes of socialist realism, so he created typographic designs. This solution was acceptable for the power. Gábor put more effort to the creation of decorative fonts than to the representation of the obligatory images - such as the statue of Vera Muhina.
Interesting fact is, that Gábor left the country in the same year when he made this poster. None the less this was the year of the Hungarian Revolution against the Soviet regime, which broke out in october.