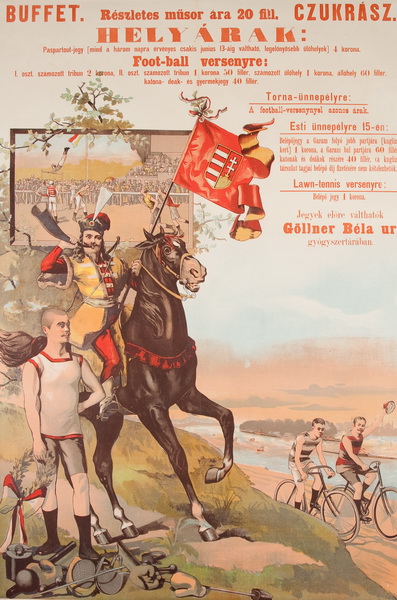 Football, cycling and lawn-tennis competition
Hungarian title:
Football torna, Bicikliverseny és Lawn-tennis verseny Besztercebányán
Artist:
Size:
Unknown artist
Pre-war 1 Sheet (cca. 63 x 95 cm)
Year:
Condition:
1902
Fine, backed on Japanese paper.
Material:
Paper, lithography.
Price: $2000
Description:
Very early football and tennis championship poster, which promoted a 3 day long event. Tickets were sold in the pharmacy of Bela Gollner, and the event was held in Besztercebanya, which is a city in Slovakia (and which used to be a part of Hungary until 1920). There were four main events: Foot-ball, Lawn-tennis, Gymnastics, and an evening celebration. The guests could enjoy meals at the buffet and the confectioner.