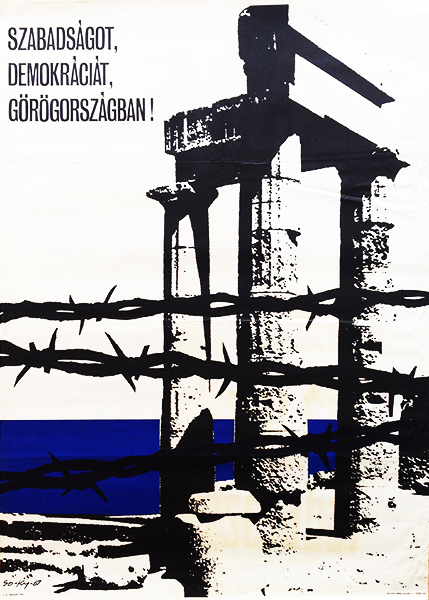 Freedom, Democracy in Greece!
Hungarian title:
Szabadságot, demokráciát Görögországban!
Artist:
Size:
So-Ky
B1 (cca. 70 x 100 cm)
Year:
Condition:
1967
Very good, fold marks, creasing along top part of right border.
Material:
Paper, offset.
Price: $150
Description:
Propaganda poster for expressing the empathy felt for Greece at the time. Before 1967 the internal affairs in Greece was all about the fight between the Left and the Right. In 1967 on the 21st of April following a coup d'état the right-wing military party took over. The rightist dictatorship didn't end until 1974. The poster of So-Ky is expressing that Hungary demands liberty and democracy for Greece. Since Hungary was a Socialist country at the time, this poster was more against the rightist dictatorship in Greece than pro democracy.
The artist couple, So-Ky, used photomontage techniques to create this propaganda design. The barbwire surrounding Greece is a perfect symbol for the political situation of the time in Greece.