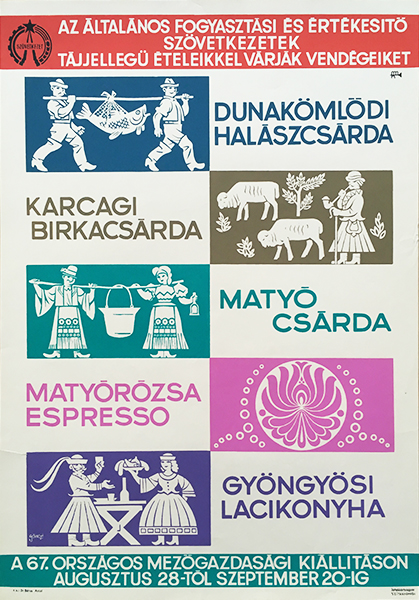 General Consuming and Sales Cooperatives
Hungarian title:
Az Általános Fogyasztási és Értékesítő Szövetkezetek tájjellegű ételeikkel várják vendégeiket
Artist:
Size:
Gönczi Gebhardt, Tibor
B2 (cca. 50 x 70 cm)
Year:
Condition:
1970
Near mint. Small fold marks.
Material:
Paper, silk screen.
Price: $110
Description:
General Consuming and Sales Cooperatives offer their guests traditional folk dishes The poster lists the restaurants and cafes that offered the traditional, regional specialties on the 67th National Agricultural Exhibition: "Fish Folk Restaurant Dunakömlő, Lamp Tavern Karcag, Matyo Tavern, Matyo Rose Cafe, Steakhouse Gyöngyös". The 67th Agricultural Exhibition and Fair took place between 28th August - 20th September of 1970, in Budapest. The event's poster, that represents an ear of wheat, was created by Gábor Papp. Reflecting the topic, Gönci Gebhardt's design show typical elements from Hungarian folk art, which often appear on ceramics and textiles. Though Gönczi recasts the traditional motives, with modern colors and typography, he makes them up-to-date.