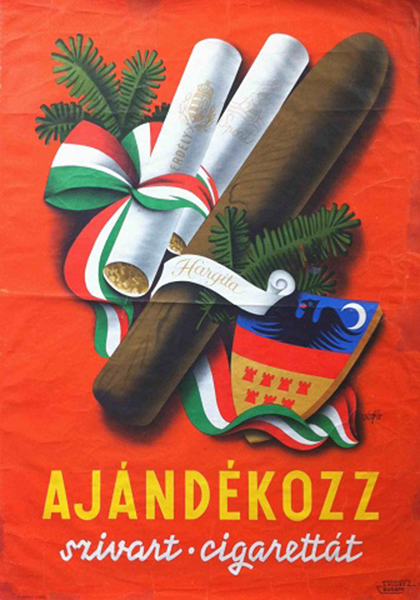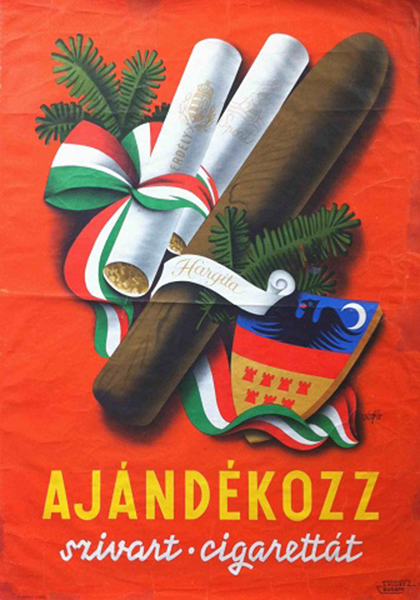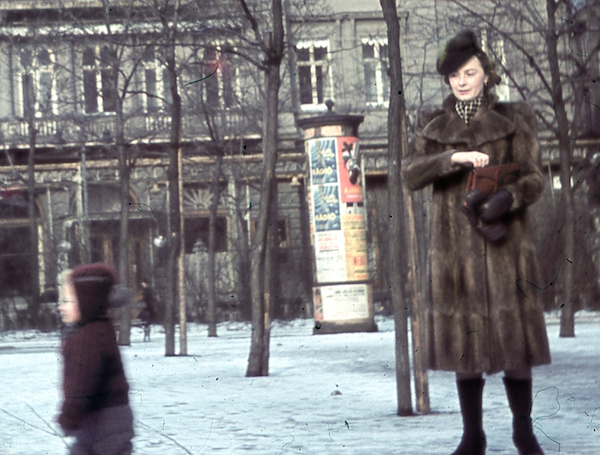 Gift Cigars and Cigarettes
Hungarian title:
Ajándékozz szivart, cigarettát
Artist:
Size:
Végh, Gusztáv
Pre-war 2 Sheet (cca. 95 x 126 cm)
Year:
Condition:
1942
Very good. Restored paper loss and tears.
Material:
Paper, offset.
Price: $400
Description:
Gusztáv Végh's decorative poster advertises three different tobacco trademarks. According to the slogan, tobacco products are good Christmas gifts.
The choice of names of tobacco brands reflect the political atmosphere of the 1940s Hungary, which was defined by the Vienna Awards. The Vienna Awards were two arbitral awards by which arbiters of Nazi Germany and Fascist Italy sought to enforce peacefully the claims of Hungary on the territory it had lost in 1920 when the Trianon Treaty was signed. The First Vienna Award took place in 1938 and the Second in 1940. The awards sanctioned Hungary's annexation of territories in present-day Slovakia, Ukraine and Romania which Hungary had sought to regain in the period between the two World Wars. (source: wikipedia.org) The "return" of these territories, especially Transylvania was received with great enthusiasm by the Hungarian public. The names of the tobacco brands were chosen in the light of the festive atmosphere caused by the reannexations: "Erdély cigarette" (Transylvania) and "Hargita cigar" (a county in eastern Transylvania).
Végh's design is a nice and decorative composition in the late Art Deco style of the 1940s.