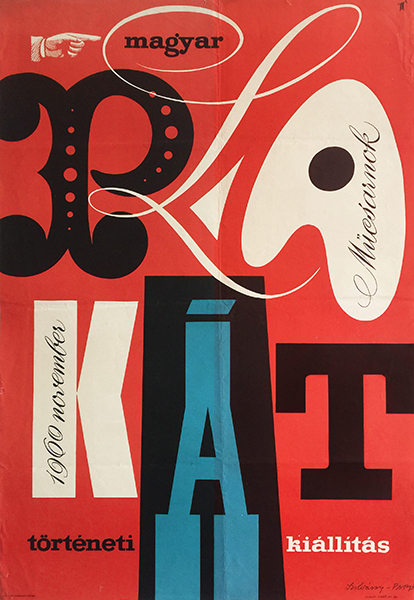 Hungarian Poster Exhibition
Hungarian title:
Magyar Plakátkiállítás
Artists:
Size:
Papp, Gábor Szilvásy, Nándor
A1 1 Sheet (cca. 55 x 84 cm)
Year:
Condition:
1960
Fine, light fold marks.
Material:
Paper, offset.
Price: $500
Description:
The poster advertises an exhibition of the history of Hungarian poster art in 1960. The exhibition was held in Kunsthalle (Műcsarnok). More artists designed posters for the same occasion.
This particular one was created by Nándor Szilvásy (here signed as Szilvássy) and Gábor Papp, and it presents great typographical style. The poster basically solely consists of letters, all of which are different, however, it still gives the feeling of unity.
Designing typographical posters was very typical of Gábor Papp, but Szilvássy also had a soft spot for this style.
The 1960 exhibition's catalog was also designed by Papp. We learn from the catalog how the Hungarian artists and art historians interpreted the former decades of the Hungarian poster art. It was a quality selection; the best masters and works of the poster art were apparently still part of the common knowledge.