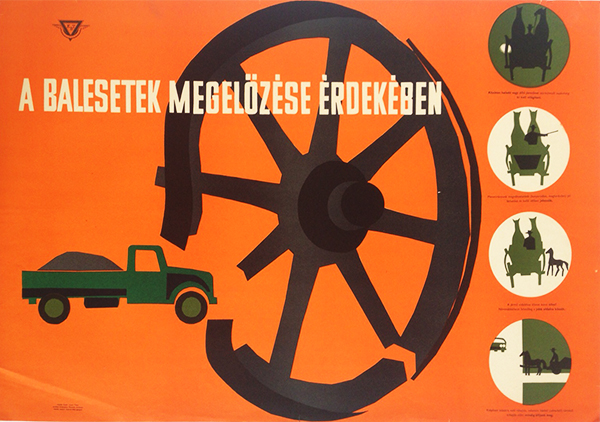 Keep the traffic regulations to avoid accidents
Hungarian title:
A balesetek megelőzése érdekében tartsuk be a közlekedési szabályokat
Artist:
Size:
Tamássi, Zoltán
A1 1 Sheet (cca. 55 x 84 cm)
Year:
Condition:
1966
Fine, fold marks, creases and very small tears along the border.
Material:
Paper, offset.
Price: $150
Description:
The poster warns people to keep the traffic regulations even with a horse drawn carriage.
In the foreground there is a vehicle and a wheel which is the most dominant element of the poster. Next to this there are four silhouettes of two horses and a carriage with different safety instructions (e.g. the carriage has to be equipped with a proper lighting from nightfall to dawn).