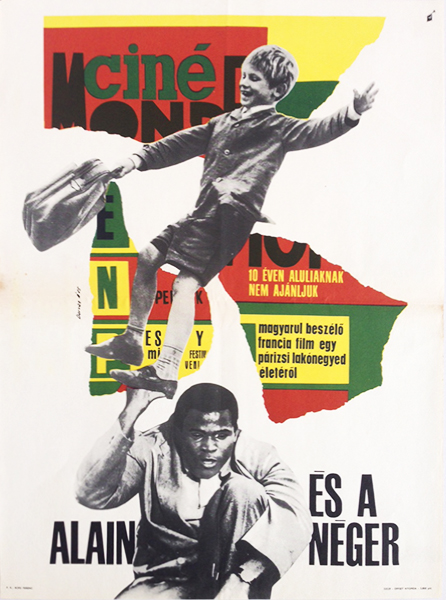 Kid of the Hill, A
Hungarian title:
Alain és a néger
Artist:
Size:
Darvas, Árpád
A2 1/2 Sheet (cca. 42 x 59 cm)
Year:
Condition:
1965
Fine, fold marks, foxing at the left and the right borders.
Material:
Paper, offset.
Price: $140
Description:
A kid of the hill (original title: Un gosse de la butte) is a 1964 French movie about the everyday life of a residential district in Paris. The film was directed by Maurice Delbez and starring Madeleine Robinson, René Lefèvre and Lucienne Bogaert.
Árpád Darvas used the mixed technique of photomontage and paper cut outs to create this dynamic composition. He was a pioneer who renewed Hungarian poster art with his new styles and techniques and one of the first artists who used photomontage and paper cutting on posters.