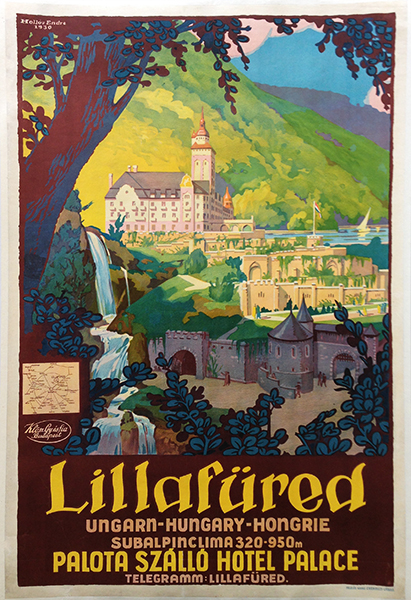 Lillafüred Hotel Palace
Hungarian title:
Lillafüred Palota Szálló
Artist:
Size:
Hollós, Endre
Pre-war 1 Sheet (cca. 63 x 95 cm)
Year:
Condition:
1930
Fine.
Material:
Paper, offset.
Price: $1000
Description:
Lillafüred is a splendid city in the countryside of Hungary. It is located in the region of the Bükk Mountain Range, at the meeting of the Szinva and Garadna Brooks. This is one of the most significant tourist destinations in the region. The Hotel Palace was built between 1925 and 1929, right next to the Hámori Lake. Although the hotel was ready by 1929, the formal opening only took place in 1930. The building was designed in a Neorenaissance style by Kálmán Lux, a rewarded architect of the time. Due to its architectural features, no wonder it got the name Palace Hotel.
This poster was created in 1930, when the hotel was opened. The design is a spectacular, colourful composition in a cartoon-like manner. The poster shows the palace in the bay with a fall and with a fortress in the foreground, surrounded by spellbinding nature. The fascinating sight could easily be a first shot from a cartoon with a charmed castle in the centre.
The poster was designed by Endre Hollós. He was a poster artist and painter in the 1930s and the 1940s. The aim of the artist was to motivate guests to visit the hotel because of its special atmosphere.