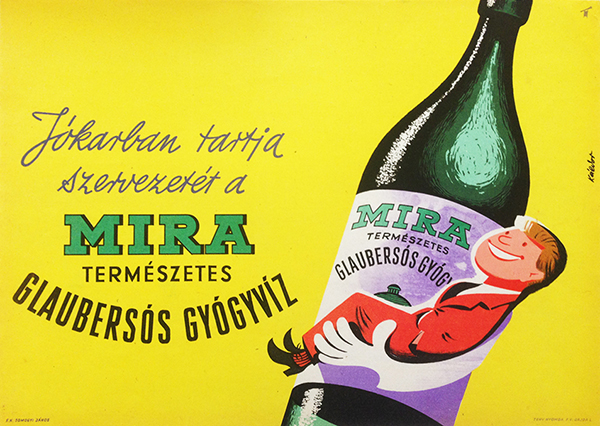 Mira - natural mineral bitter water with glauber's salt
Hungarian title:
Mira - természetes glaubersós gyógyvíz
Size:
Double Tram poster (cca. 24 x 34 cm)
Condition:
Fine, light creasing at the top right corner.
Price: $100
Description:
Poster of Mira natural bitter water with glauber's salt. The natural source for Mira water was discovered in 1920 at Jászkarajenő, a village close to Budapest. Shortly after, the production of medical water started and in 1922 the bottler factory was built. The water was exported to England, France and South-America before the Second Wold War. The water's main ingredient is glauber's salt - in other words natrium-sulphate. It also contais magnesium suplphate and general salt. It can be applied when the patient experiences gastritis or other stomach and gut related problems. Mira bitter water is the youngest among Hungarian natural medical waters.
The poster was design by László Káldor who was mostly know for his humorous and caricaturistic designs. It wasn't until the 1950s when Káldor started to create the cartoon-like designs what is also apparent on this particular piece. He had a peculiar style, thus it is very easy to recognize his works. He often received commissions from the Rainbow Department Store. This poster for has a design with a similar atmosphere to the Mira medical water. Interestingly, it was quite common to use a yellow background for advertising bitter water. For example the Hunyadi János bitter water's poster has characteristics similar to this one. The text here says 'it keeps your health in proper condition'. In Hungarian if we translate this sentence word by word it means that 'it keeps your health in good arms', hence the picture of the bottle holding the happy man in its arms. This humorous approach was common in the artist's ouvre.