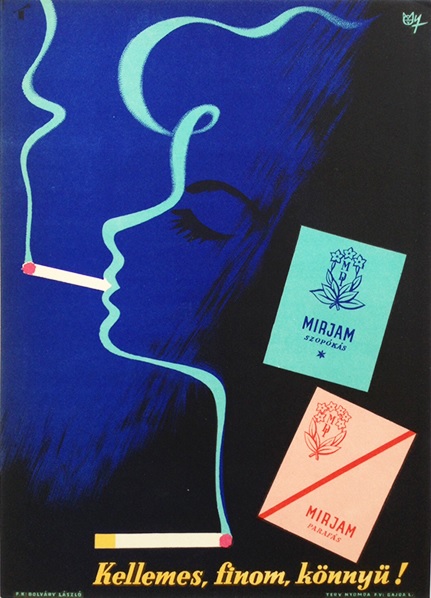 Mirjam cigarettes - Pleasant, tasty, light!
Hungarian title:
Kellemes, finom, könnyű!
Artist:
Size:
Macskássy, János
Tram poster (cca. 17 x 24 cm)
Year:
Condition:
late 1950s
Mint.
Material:
Paper, offset.
Price: $120
Description:
Attractive commercial poster for 'Mirjam' cigarettes in a tram poster size. It was designed by János Macskássy who was a fine graphic designer and painter.
This piece is a simply elegant and a highly decorative composition, using delicate lines and an airy poster style. Facial lines of a female figure are outlined by the fume of a cigarette, what's more, the figure also smokes a cigarette. Two different variants of Mirjam cigarette can be seen on the right corner of the composition, one in blue and one in pink packaging. The light, airy character of the design is parallel with the aimed message of it: these kinds of cigarettes are pleasant, tasty and light.