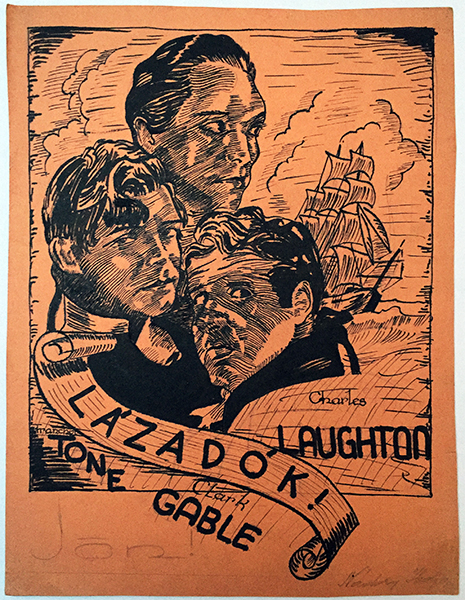 Mutiny on the Bounty
Hungarian title:
Lázadók - Lázadás a Bountyn
Artist:
Size:
Nádory, Ibolya
Tram poster (cca. 17 x 24 cm)
Year:
Condition:
1930
Fine.
Material:
Pencil and ink on cardboard.
Price: $250
Description:
Original Hungarian poster artwork for the movie 'Mutiny on the Bounty'. The artwork was created by Ibolya Nádory, and the Hungarian title of the film was 'Rebels' in the beginning, so the title is the same in this poster artwork, too.
"Mutiny on the Bounty is an American 1935 drama film starring Charles Laughton and Clark Gable, and directed by Frank Lloyd based on the Charles Nordhoff and James Norman Hall novel Mutiny on the Bounty.

The film was one of the biggest hits of its time. Although its historical accuracy has been questioned (inevitable as it is based on a novel about the facts, not the facts themselves), film critics consider this adaptation to be the best cinematic work inspired by the mutiny."
(source: en.wikipedia.org)
This artwork is a fine graphical composition in an elegant drawing style. The artist used black ink to draw the image. The three main characters (Charles Laughton, Clark Gable and Franchot Tone) of the movie are captured in the centre, their faces are drawn precisely and detailed. The ship of Bounty can be seen in the background on the sea, with cloud on the sky above. The title is depicted to be written on a scroll, and the names of the three main characters (Charles Laughton, Franchot Tone and Clark Gable) are written around it. The portrayal evokes the visuality of fine drawn book illustrations of the period and create a special atmosphere in the poster design.
This original poster artwork is a skillful and delicate drawing from the 1930s.