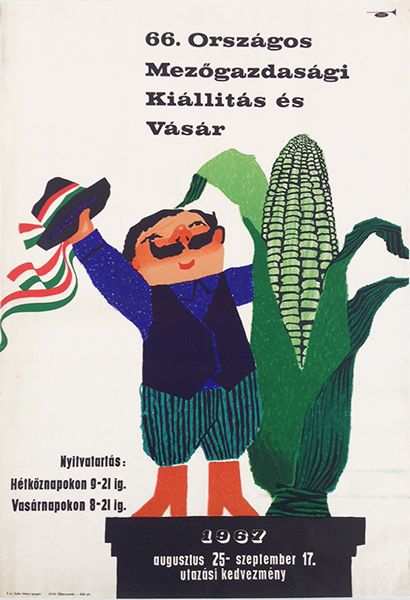 National Agricultural Fair
Hungarian title:
66. Országos Mezőgazdasági Kiállítás és Vásár. 1967 augusztus 25 – szeptember 17. utazási kedvezmény. Nyitva tartás…
Artist:
Size:
Tomaska, Irén
B2 (cca. 50 x 70 cm)
Year:
Condition:
1967
Very good.
Material:
Paper, offset.
Price: $250
Description:
66th National Agricultural Exhibition and Fair. 25th August 1967 – 17th September. Reduced fares. Opening hours:… This is a lovely poster for the Agricultural Fair of 1966, with a funny and yet decorative image.
The poster was probably designed by Sándor Lengyel, but there is no signature.
Publisher information: Budapest, Szőke Mátyás igazgató, 1966-7, Offset nyomda, 5060 copies