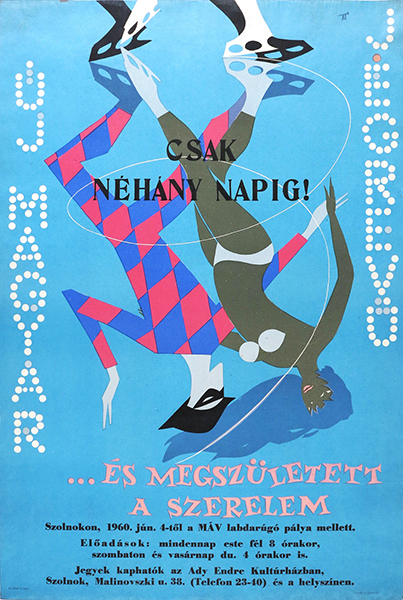 New Hungarian Ice Revue
Hungarian title:
Új Magyar Jégrevü
Artist:
Size:
Szilvásy, Nándor
A1 1 Sheet (cca. 55 x 84 cm)
Year:
Condition:
1960
Fine, light creasing.
Material:
Paper, offset.
Price: $600
Description:
Impressive poster for the upcoming performance of the Hungarian Ice Revue.
The design is very witty: we can see the feet of the skaters on the top and the main part of the poster is occupied by the reflection of them, therefore the image seems to be upside down. The hair of the figures gives the dynamics of the composition as we can see that they are in motion, skating backwards. The pastel colours make the image very delicate as well as the elegantly drawn figures. The typography is also noteworthy: on the sides New Hungarian Ice Revue is written with letters made of small dots and in almost the middle of the composition the black text says: only for a few days. With yet another typeface and colour below the composition: '...and then love was born' is written, and in smaller black letters below it the basic information: time, place and tickets. What spices up the composition even more is the thin line given by the scratch made on the ice by the skaters.
The cartoon-like style applied on this design was very common in the 1960s. Artists enjoyed that they were relieved from the strict and obligatory socialist-realist style of the 1950s and had a chance to explore and experiment with a large variety of techniques. Typically the posters made in the late 1950s and 1960s have a humorous any playful attitude, such as this paricular example.