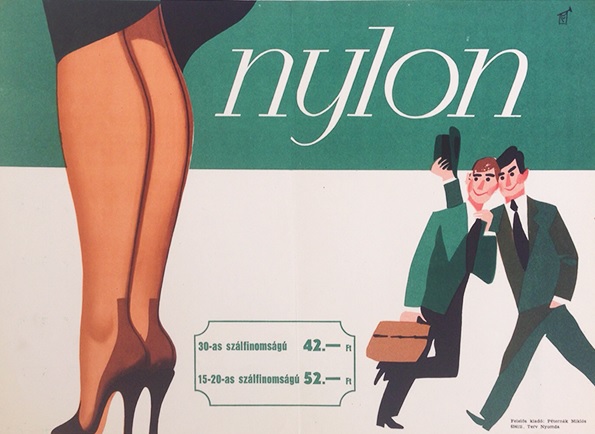 Nylons
Hungarian title:
Nylon harisnya
Artist:
Size:
Unknown artist
Double Tram poster (cca. 24 x 34 cm)
Year:
Condition:
1963
Mint.
Material:
Price: $100
Description:
Charming commercial tram poster in a double tram poster size(23.5 x 33.5 cm). It was created to advertise nylons.
This kind of advertisement can be a little bit funny nowadays as it was trying to motivate to consume, buy a product in general, without any brand or trademark. However, commercials like 'Let's eat sour cream!' or 'Wear a hat!' were definitely typical, especially in the first part of the socialist era. The phenomenon was the result of the scarcity of goods in the bad economic state of the country and the stagnation caused by the lack of real market due to the employed socialist economic ideology. There were hardly any brands, but everything was nationalized by the one-party state, so competition was absent. But the political leadership decided to have commercials, not to be out of something the West was in. Commercials, pulled out of their original capitalist system, lost their original function, though. That was the reason why these advertisements seem a bit silly.
This piece was aimed to call attention to nylons by depicting female legs in nylons from backside and two male figures looking at them while walking. The cartoon-like style of the design contributes to a funny character.