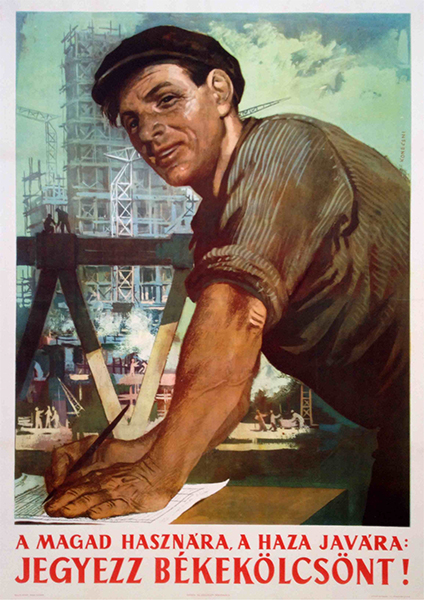 Peace Loan
Hungarian title:
A magad hasznára, a haza javára jegyezz békekölcsönt!
Artist:
Size:
Konecsni, György
A0 2 Sheet (cca. 84 x 119 cm)
Year:
Condition:
1951
Fine. Horizontal and vertical fold marks.
Material:
Paper, offset.
Price: $600
Description:
'For your own and for your homeland's benefit, bond Peace Loan!' Typical socialist realist poster from the 1950s.
"Peace Bond" was a strange form of savings between 1949-1955. It was a form of government bond, just like war bonds. According to the governmental arguments, Peace Bond served the rebuilding of the country. It was said to be a voluntary institution, however it was rather obligatory for everyone to bond them regularly. It was also said to be a good investment and a safe place for savings. But actually it was initiated only so that the state can economize with the the savings of the population.
The poster is a good example of the state propaganda the political leadership used to manipulate people. It depicts a characteristic figure, the socialist hero, a working-class man. The usual worker is shown in front of his working place, a factory. The man is captured to be a strong and handy worker, and a responsible, useful member of the society, too - he signs the peace bond with his big, wide, dutiful hands.
The photo-like realism in visuality and the ideologist message in content are the key characteristics of Socialist Realism. We can add, though: this is not a typical work of one of a leading artist of poster design in Hungary, György Konecsni.