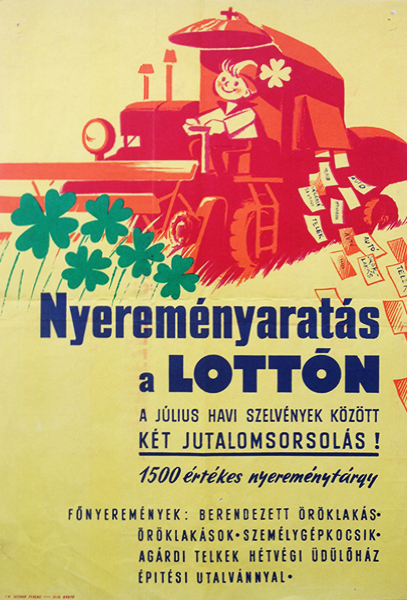 Prize harvest on the Lottery!
Hungarian title:
Nyereményaratás a LOTTÓN
Artist:
Size:
Macskássy, János
A3 (cca. 30 x 42 cm)
Year:
Condition:
1964
Fine, fold marks, creases along the border.
Material:
Paper, offset.
Price: $140
Description:
Lottery poster from the 1960s. Size: 38.5 x 26.5 cm.
Modern lottery was introduced in Hungary in 1957, so it was relatively new at the time. During the late 1950s and 1960s, lottery was very often advertised in Hungary. These lottery posters almost always had a humorous tone, they mostly are based on lovely, funny characters. In the 1960s it was very common to have a certain character to promote a specific brand. In the case of lottery, this character was the boy with the four-leaf clover whose name was Lotto Ottó and was designed by János Macskássy who used this character on many of his posters: Do not miss it!, Lottery, Lottery 2 for example.
This one has the young boy with the four-leaf clover driving a tractor which rhymes with the slogan: prize harvest. The harvested four-leaf clovers are transforming to winning lottery tickets. On the tickets some prizes are written: Car, shopping voucher, land, flat, etc. The text says that in every second week there is a draw where peoplehave a chance to win one of the 1500 valuable prizes. The main prizes were: furnished flat, empty flat, cars, land with voucher to build a weekend house on a popular holiday destination, Agárd.