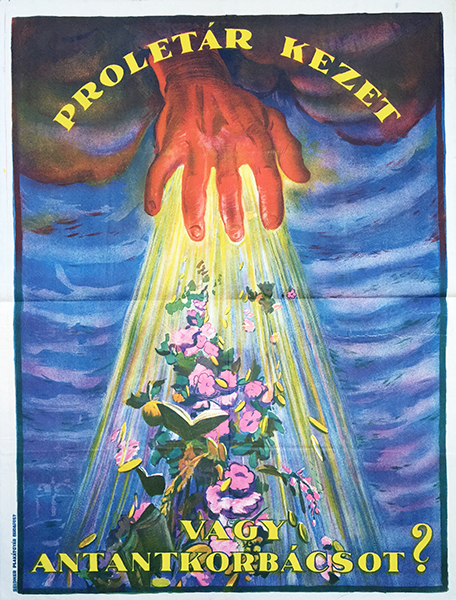 Proletarian hand or Entente whip?
Hungarian title:
Proletár kezet vagy Antantkorbácsot?
Artist:
Size:
Unknown artist
Pre-war 2 Sheet (cca. 95 x 126 cm)
Year:
Condition:
1919
Fine.
Material:
Paper, lithography.
Price: $1800
Description:
While the Hungarian Soviet Republic was a failed experiment in 1919, which had given even more suffering to the already devastated Hungary, it was undoubtedly a unique attempt that brought the young, immensely talented modernist minds together, and partially gave them the opportunity to shine. This modern utopia soon showed its enormous flaws, but its demise was not without a trace. The most important imprints of this era are the unique and bold propaganda posters, which were supposed to convey its utopian ideas to the masses. Education, culture and propaganda were linked together and each took part in the great work of reforming society. Posters of the Hungarian Soviet Republic show the spirit of this very short but important period, and this piece is a great example of these pieces.