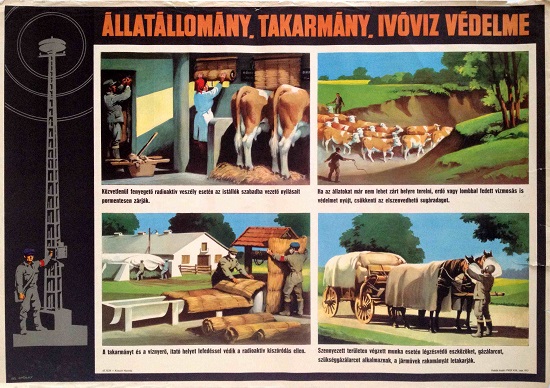 Protection of Livestock, Fodder, Drinking Water
Hungarian title:
Állatállomány, takarmány, ivóvíz védelme
Size:
A1 1 Sheet (cca. 55 x 84 cm)
Condition:
Fine, fold marks.
Price: $120
Description:
Illustrated informative poster from the 1960s. The educative poster tells us how to protect the animals, fodder and the drinking water, in case of a nuclear attack. On the illustrations we see farms in sunshine, where people try to avoid the dangers of a radioactive attack. Apparently, there are several things to do in order to minimize the effects of nuclear radiation. The poster is a clear evidence of the war preparedness during the Cold War.