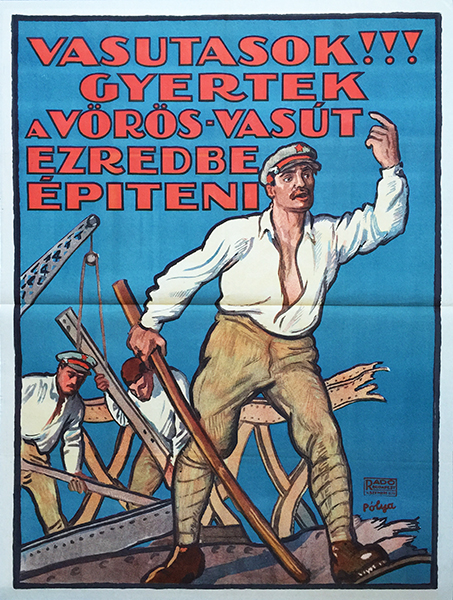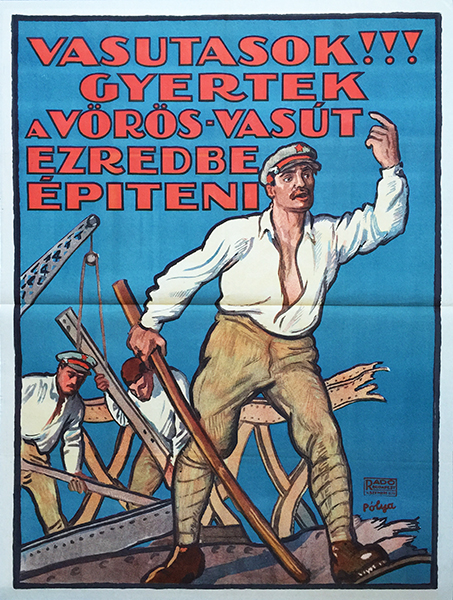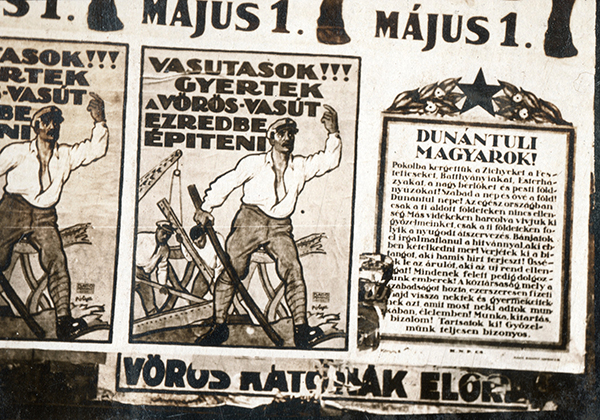 Railwaymen!!! Join the red railway regiment to build
Hungarian title:
Vasutasok!!! Gyertek a vörös vasútezredbe építeni
Artist:
Size:
Pólya, Iván
Pre-war 2 Sheet (cca. 95 x 126 cm)
Year:
Condition:
1919
Near mint. Unbacked.
Material:
Price: $4000
Description:
This poster is one of the propaganda posters from 1919, which was made during the Hungarian Soviet Republic. While the Hungarian Soviet Republic was a failed experiment in 1919, which had given more suffering to the already devastated Hungary, it was undoubtedly a unique attempt that brought the young, immensely talented modernist minds together, and partially gave them the opportunity to shine. This modern utopia soon showed its enormous flaws, but its demise was not without a trace. The most important imprints of this era are the unique and bold propaganda posters, which were supposed to convey its utopian ideas to the masses. Education, culture and propaganda were linked together and each took part in the great work of reforming society. Posters of the Hungarian Soviet Republic show the spirit of this very short but important period. During the very short period (133 days) of the Hungarian Soviet Republic, the progressive and modern tendencies in art and literature became apparent, and dominated the cultural policy. In fact, the modern and progressive Hungarian intelligentsia supported the new regime unanimously. Behind this phenomenon lied many reasons. The Hungarian Soviet Republic was established in the spring of 1919, peacefully, without bloodshed – unlike the Soviet Revolution in 1917, which lead to a civil war. This fact gave the new state strong legitimacy. In addition to the socialist ideology of the regime, the nationalist emotions were also present, since the country was about to continue the war to defend itself and its territorial integrity. This meant that the new regime was able to represent the key, although diverse opinions present in Hungarian society.
This poster calls the raiwaymen to join the red railway regiment and help bulding. The message of the piece is very complex. It shows the figure of the strong worker which is in the center of the communist ideology. The call for building the railway implies that the new system is building instead of destroying and also gives work to people.
Pólya was a very versatile and successful poster artist, although he was primarily a painter. He designed famous posters for Modiano, Cordatic and he is also well-known for his amazing series of posters which he designed for several newspapers.