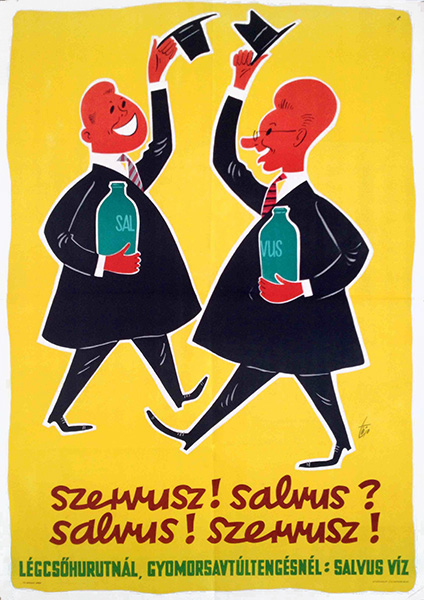 Salvus Spa Mineral Water
Hungarian title:
Szervusz! Salvus? Salvus! Szervusz!
Artist:
Size:
Török, János
B1 (cca. 70 x 100 cm)
Year:
Condition:
1954
Fine, fold marks, small restored tears. Near mint.
Material:
Price: $600
Description:
One of the most famous commercial posters from the 1950's. The design is clear and impressive, with well shaped forms and vivid colors.
However, the poster is rather popular because of the slogan. The two gentlemen greet each other on the street with the common Hungarian greeting "szervusz!". The greeting and the product's name are very alike, which results a short but compact - and very humorous - dialogue.
The journal "Magyar Reklám" (Hungarian Advertising) published an article about the Salvus campaign in 1958. The text states that thanks to the effective commercials, the sales of the product grew with 600% in the last 3 years! The designer, János Török also contributed to the animated television commercial of the same idea.
This means that the poster was made as part of a carefully organised campaign. The general idea was to make the people consume more domestic mineral water. Salvus was a major brand, it was produced in Hungary.