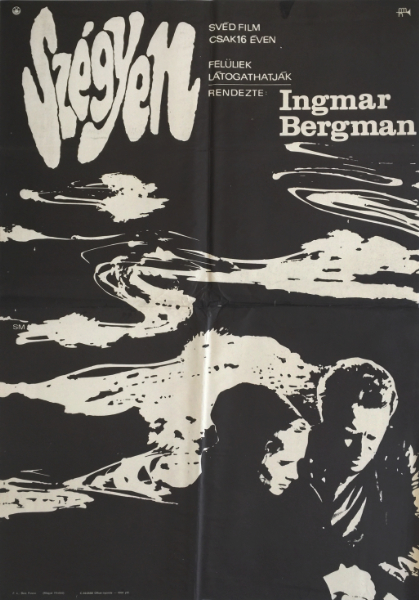 Shame
Hungarian title:
Szégyen
Artist:
Size:
Sándor, Margit
A1 1 Sheet (cca. 55 x 84 cm)
Year:
Condition:
1969
Fine, fold marks, small tears.
Material:
Paper, offset.
Price: $200
Description:
Shame (Swedish: Skammen) is a 1968 Swedish drama film written and directed by Ingmar Bergman, and starring Liv Ullmann and Max von Sydow. The film explores shame, moral decline, self-loathing and violence through a politically uninvolved couple attempting to flee a war-ravaged European nation. The film was shot on Fårö beginning in 1967, employing miniature models for war scenes.
Shame was released during the Vietnam War, although Bergman denied it was a commentary on the real-life conflict. It won a few honors, including for Ullmann's performance. It is followed by Bergman's thematically-related 1969 film The Passion of Anna. (source: wikipedia.org)