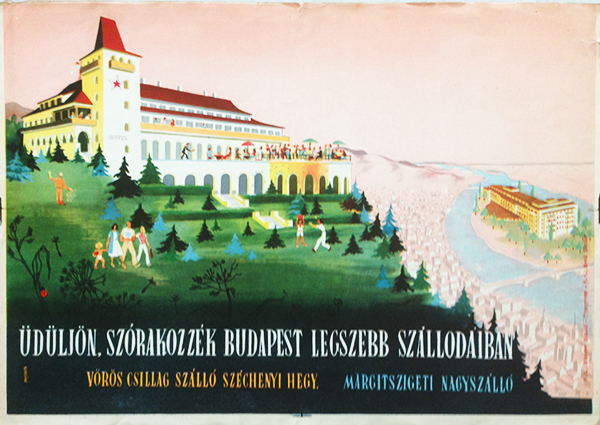 Spend your holiday at the most beautiful hotels of Budapest
Hungarian title:
Üdüljön, szórakozzék Budapest legszebb szállodáiban
Artist:
Size:
Szécsiné
Double Tram poster (cca. 24 x 34 cm)
Year:
Condition:
1953
Fine, foxing, creases and smaller tears along the border.
Material:
Paper, offset.
Price: $140
Description:
Travel poster to popularize Budapest as a tourist destination and its spectacular sights. It presents two hotels in particular: Vörös Csillag Szálló at Széchenyi Hegy and the Grand Hotel at Margitsziget. Both hotels are portrayed on the poster.
The Vörös Csillag Szálló (Red Star Hotel) is on the top of the hill. The name of the hotel is a typical Socialist name, however the building was built years before the socialist era. It was built in 1939 with a goal of attracting more tourists to the location. The name of the hotel was Golf hotel initially. Thenin 1948 when the Communist government took over, they nationalized the hotel and renameed it to Red Star. In 1989 when the change of the system took place it was owned by Hungar Hotels and after a few months of renovations it was reopened and renamed again. The new name was Panorama Hotel. The building is empty today. The other hotel promoted by the poster is the Grand Hotel. It was designed by one of the most prominent architects of Hungary, Miklós Ybl. That was also nationalized bny the Socialist government.
The composition is very typical of the time. We can see happy families enjoying themselves and making use of the many possibilities which are offered by the government. The red star on the hotel pops out from the picture immediately. Communist symbols were never neglected on these Socialist-Realist compositions.