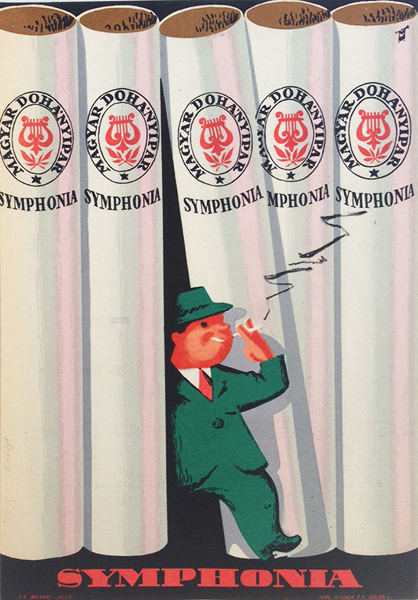 Symphonia cigarettes
Hungarian title:
Symphonia - Magyar Dohányipar
Artist:
Size:
Káldor, László
Tram poster (cca. 17 x 24 cm)
Year:
Condition:
1960
Mint.
Material:
Price: $100
Description:
Playful and decorative tram poster by László Káldor for the most important Hungarian tobacco trademark of the 1960s.
Symphonia cigarette has been produced since 1923 in Debrecen. After the World War II, production was ceased until 1957. The filter variant appeared in 1972. Later light (blue, filter ventillation) and ultra light (yellow, low-tar filter ventillation) variants appeared. This brand was the most popular cigarette in Hungary in 1980. Since 2004, the Imperial Tobacco Poland produces it until today. (source: cigarettespedia.com)
This humorous composition is a great piece of Káldor. He employed a funny little cartoon-like figure, smoking cigarette and walking among big-scaled sticks of cigarette. The whole design is an attractive, playful piece.