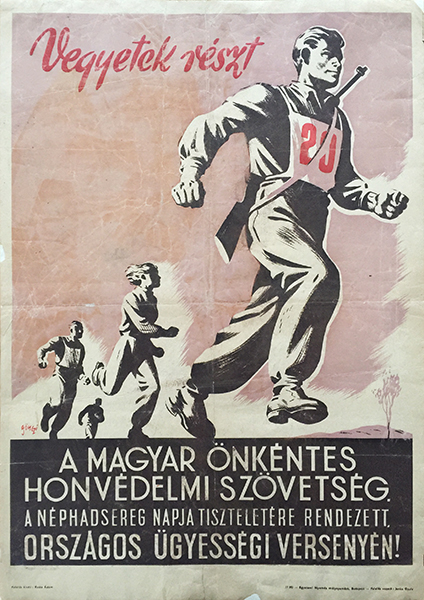 Take part in the competition of the Voluntary National Defense Association!
Hungarian title:
Vegyetek részt a Magyar Önkéntes Honvédelmi Szövetség ...versenyén!
Artist:
Size:
Gönczi Gebhardt, Tibor
A2 1/2 Sheet (cca. 42 x 59 cm)
Year:
Condition:
1955
Very good. Restored, creasing and wear.
Material:
Paper, intaglio.
Price: $200
Description:
Dynamic sport poster from the 1950s. The poster was designed by the most popular designer of the age, Tibor Gönczi-Gebhardt. It is a painted work, printed with two colors, intaglio.
The Voluntary National Defence Association was a socialist organization in the times of the Cold War. This poster propagates an event which was organized by them for the occasion of the day of the Hungarian Soviet Army (Néphadsereg) on the Competition of Youth at Pákozd.