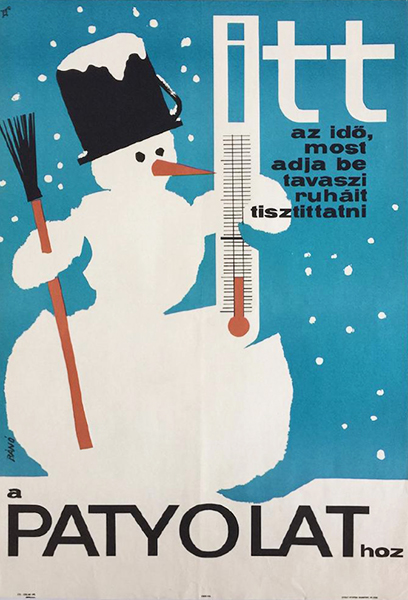 Take your spring clothes to the Laundry service
Hungarian title:
Most adja be tavaszi ruháit tisztíttatni a Patyolathoz
Artist:
Size:
Bánó, Endre
B2 (cca. 50 x 70 cm)
Year:
Condition:
1964
Fine, fold marks, light creasing at the bottom.
Material:
Paper, offset.
Price: $350
Description:
The inscription on the poster says: 'The time has come. Hand in your spring clothes to the laundry now!'
The slogan is a word play as in Hungarian 'idő' means both 'weather' and 'time'. Visually the poster refers to 'idő' as in weather, but verbally it refers to it as in time. This double meaning provides the essence of the composition.
The blue and white colours often appear on posters advertising laundry services as those are associated with cleanliness and freshness.