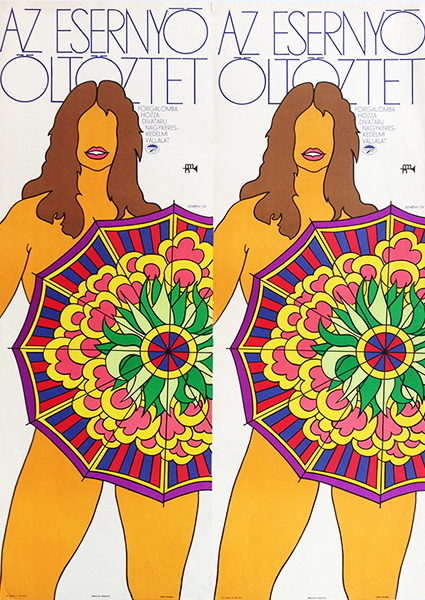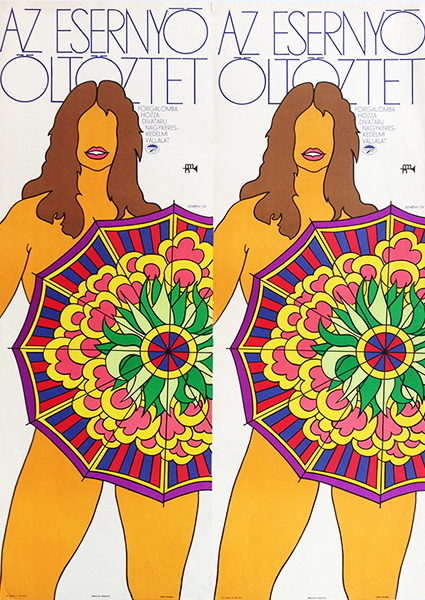 The Umbrella dresses you up
Hungarian title:
Az esernyő öltöztet
Artist:
Size:
Kemény, György
A1 1 Sheet (cca. 55 x 84 cm)
Year:
Condition:
1969
Fine, light fold marks, discolouration at the bottom.
Material:
Paper, offset.
Price: $400
Description:
This poster of Gyorgy Kemeny has become a cult piece. Legend has it that it was banned at the beginning of the 1970s but as a result, it became even more popular among the young intelligentsia of the age. For the people of the time this poster was a slice of the Western world. The reason for banning the poster was that it was too erotic for the censorship, not mentioning its pop art style popular in the Western countries at the time. The witty slogan was also too much as it clearly ridiculed the institution of cencorship. However, the artist himself says that there had been a scandal around his poster but not this one. It could be any of the two as their style and message are very similar and their author has always been a unique character not accepted by the system. He was fired as a result of the scandal, but years later he won the prize for the best poster with one of his pop art style pieces. The fact that this could happen shows that by the 1970s poster art got more freedom, the artists had more chance to express their personality and artistic talent. Kemeny was famous for his method of matching the slogan with the image and that is apparent on this famous design of his as well.