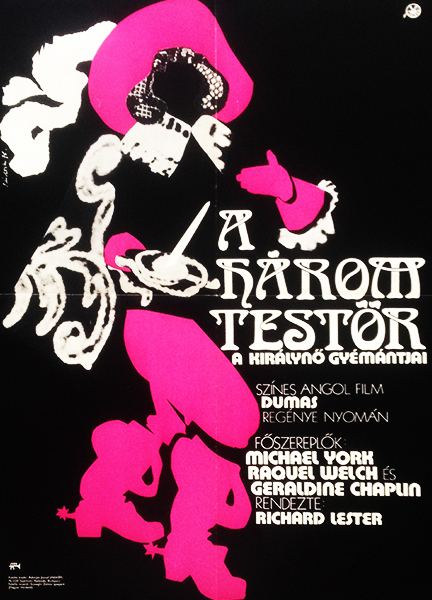 Three Musketeers, The
Hungarian title:
A három testőr
Artist:
Size:
Sándor, Margit
A2 1/2 Sheet (cca. 42 x 59 cm)
Year:
Condition:
1976
Near mint, horizontal and vertical fold marks.
Material:
Paper, offset.
Price: $70
Description:
The Three Musketeers is a 1973 film based on the novel by Alexandre Dumas. It was directed by Richard Lester and written by George MacDonald Fraser (famous for his Flashman series of historical comic novels). It was intended to run for three hours, but later it was split into two, the second part becoming 1974's The Four Musketeers. In 1989, the cast and crew returned to film The Return of the Musketeers, loosely based on Dumas' Twenty Years After. The film adheres closely to the novel, but also injects a fair amount of humor. It was shot by David Watkins, with an eye for period detail. The fight scenes were choreographed by master swordsman William Hobbs. The story is about a young swordsman, who comes to Paris and faces villains, romance, adventure and intrigue with three Musketeer friends. (source: wikipedia.org, imdb.com)
The design of the poster was created by the famous Margit Sándor, who mostly created movie posters. She liked using contrasts of colours and shapes which tool is also apparent on this piece.