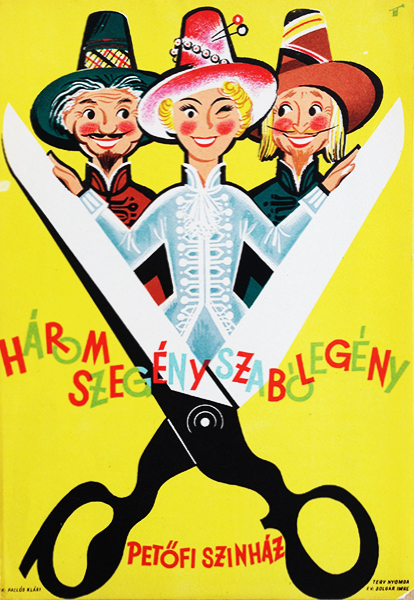 Three Poor Tailors
Hungarian title:
Három szegény szabólegény
Artist:
Size:
Köpeczi Bócz, István
Tram poster (cca. 17 x 24 cm)
Year:
Condition:
1956
Fine, a small paper loss at the bottom right corner.
Material:
Paper, offset.
Price: $70
Description:
The cheerful composition was made for the premiere of József Babay's musical, the Three Poor Tailors. The premiere took place at Petőfi Theatre, Budapest in 1956.
The folktale inspired play tells the adventurous story of three young tailors and their glorious victory over the wicked brother and a judge who override his commission. The vivid colours and the smiling figures between cutting-out scissors reflect the cheerful atmosphere of the play.