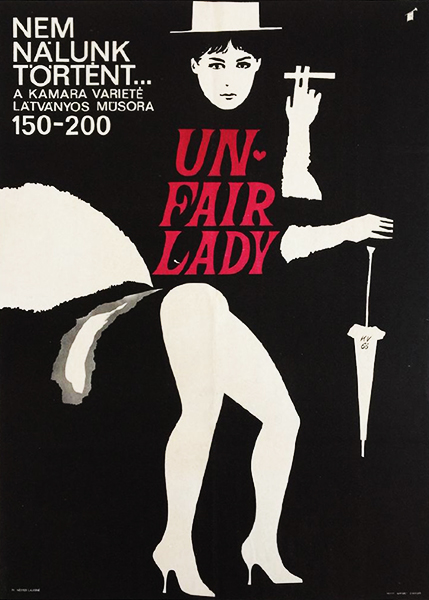 Unfair Lady - Chamber Variety show
Hungarian title:
Unfair Lady - Kamara Varieté Show
Artist:
Size:
Kovács, Vilmos
B2 (cca. 50 x 70 cm)
Year:
Condition:
1966
Fine.
Material:
Paper, offset.
Price: $250
Description:
Funny composition for a Chamber Variety show, Unfair Lady. The title of the show is a word-play for the famous musical, My Fair Lady. Besides the word-play the design also alludes to the musical: the lady appears on this poster is very similar to Audrey Hepburn who played the main role in My Fair Lady. A variety show, also known as variety arts or variety entertainment, is an entertainment made up of a variety of acts (hence the name), especially musical performances and sketch comedy, and normally introduced by a compáre (master of ceremonies) or host. Other types of acts include magic, animal and circus acts, acrobatics, juggling and ventriloquism. The variety format made its way from Victorian era stage to radio to television. Variety shows were a staple of anglophone television from its early days into the 1970s, and lasted into the 1980s. In several parts of the world, variety TV remains popular and widespread. (source: wikipedia.org) Variety shows were very popular in Hungary during the 1960s.