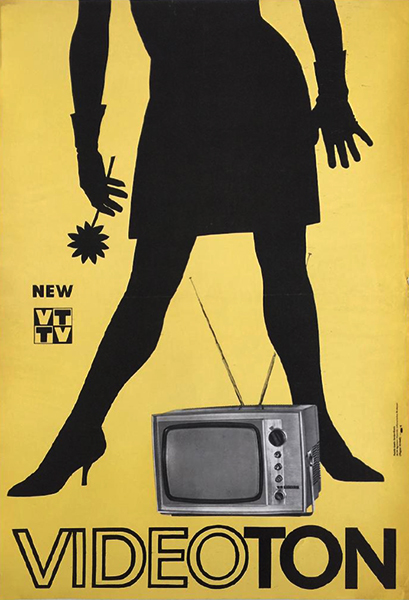 Videoton television
Hungarian title:
Videoton televízió
Artist:
Size:
Kovács, Vilmos
A1 1 Sheet (cca. 55 x 84 cm)
Year:
Condition:
1968
Fine, fold marks, light wear along borders.
Material:
Paper, offset.
Price: $160
Description:
The poster advertises Videoton, the Hungarian electronics manufecturer. Videoton was established in 1938. In 1950 the company was nationalized, became state owned. It developed, manufactured and sold Videoton branded consumer electronics, IT and defence electronics products. This poster was made for the foreign market as can be concluded by indicating the novelty of the product in English (above the VTTV logo). The design was made with a mixed technique. The yellow background is in contrast with the silhouette of the lady in gloves, holding a flower in her hand. This contrast provides the essence of the composition.
The lady's silhoutte in front of the yellow background and the VTTV logo on the left hand side was a design used for more Videoton posters. The image of the product, the name of the product on the bottom of the page were the inconstant items. Another example of the usage of the same design format can be found here.