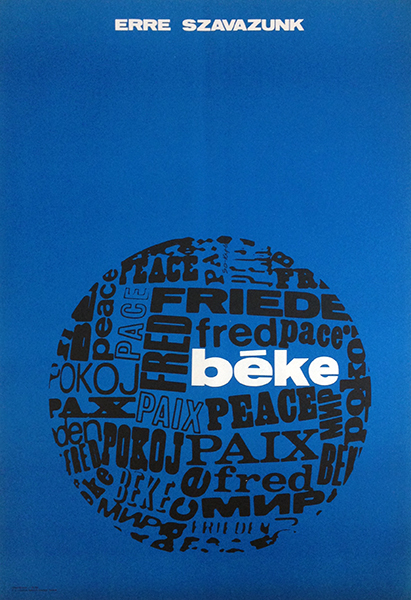 We vote for peace
Hungarian title:
Erre szavazunk... Béke
Artist:
Size:
So-Ky
A1 1 Sheet (cca. 55 x 84 cm)
Year:
Condition:
1966
Fine, fold marks.
Material:
Paper, offset.
Price: $100
Description:
Typographic propaganda poster promoting peace. The word 'peace' appers in many languages, creating a globe shape.
The So-Ky artist couple were very important designers of the 1960s and 1970s; and they are mostly known from their political posters. Topics like world peace, cold war, possibility of a next world war, the activities of the "peace camp", the threat of imperialism and capitalism, etc. often appear on their works. They usually used fresh and modern style in order to create expressive compositions.