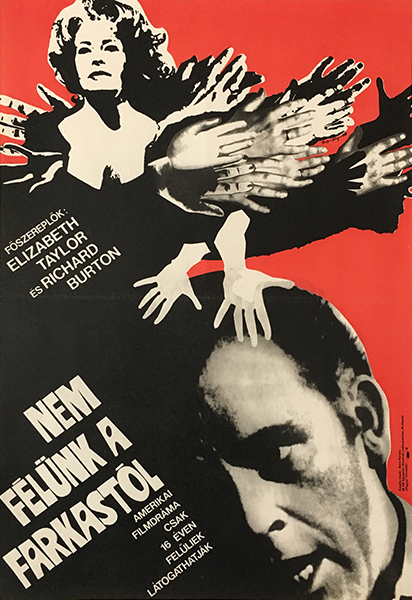 Who's Afraid of Virginia Woolf?
Hungarian title:
Nem félünk a farkastól
Artist:
Size:
So-Ky
A2 1/2 Sheet (cca. 42 x 59 cm)
Year:
Condition:
1968
Fine, light fold marks.
Material:
Paper, offset.
Price: $250
Description:
Who's Afraid of Wirginia Woolf is an American movie drama created in 1966, starring Elisabeth Taylor and Richard Burton. It won several prizes (e.g. Oscar for best actress in 1967) and it had numerous nominations. The story shows the bit aging married couple, Martha and George play cruel emotional games with each other which a younger couple, Honey and Nick happen to witness and participate in during a night. The emotional threads mess up, reality and illusion fade into each other, until finally the brutal jokes and drastic turns collapse into heavy reality.
The story plays with tragic, comic, realist and surrealist elements in an amazing way, while the dark humour is the constant spice of it.The story can have several interpretations from many aspects, it can have excitingly layered content of meanings. First of all, the title does not only refers to the song cited from the tale of Three Little Pigs which is sung many times in the movie, but also serves as an absurd joke and an important improver of interpretations by matching with the name of the famous novelist. Thus the question will be: who's afraid of living without illusions?
The Hungarian poster of the film is one of the attractive Hungarian movie posters from the 1960s, and it was created by a prominent graphic (and also married) couple, So-Ky – László Sós and Éva Kemény. The dramatic effect of the colours on the poster are strengthen by the impressive montage of the overexposed photograpic elements.